Dec 8, 2022

Remuneration transparency at Fairmat
Fairmat makes its salary grid accessible
Nos amis francophones trouveront une version française ci-dessous ?

In 2022, we put in place a salary framework at Fairmat. The infamous salary grid – as coveted as it is scrutinized by all Fairmatters. Now it's been in place for a few months, we have a little time to make it public and tell you more about our approach!
The aim is to provide as much information as possible on the roles and missions of the teams, so that together we can make our company as successful as possible. This public communication exercise allows us to openly share:
what we feel is the right level of pay for our jobs in the market, reflecting the commitment to the environment and the importance of their impact
how we determine the level of remuneration we award

#spoileralert: by evaluating each competency, taking experience into account and adapting to each person's level of responsibility in the company
How salaries progress as people move through the company
Why a salary framework, and why make it public? ?
First and foremost, we believe that establishing a salary framework is a way to level the playing field. Some people are better at negotiating than others.
It's also a way to avoid inequalities, whether they are linked to gender, subjectivity, ethnic origin, disability, or the so-called impostor syndrome (some people tend to devalue themselves and think that they are less valuable than they really are). As a result, these people will ask for less when hired.
Discussions and speculation about salaries are present in every organization. No point denying it: we all have a natural tendency to want to know what the neighbors are up to.
Finally, it is a way for Fairmat to communicate transparently, from the beginning of job interviews, about remuneration levels, which we want to ensure are as fair as possible within our organization, centered on commitment and responsibility to the planet. This transparency allows us to create a unique environment of trust that goes beyond simply reducing inequality.
That's why we've decided to save time by being proactive and communicating our compensation framework.
How did we build our framework? ?
"So we're all agreed that remuneration shouldn't just be about years of experience? Skills and level of responsibility within the company – that has a value too, right?"
Between this decision, which had already been carefully thought out beforehand, and the distribution of our framework internally, there were several weeks of work and a lot of reading to fuel our thinking. We were also inspired by some great articles, including those from Alan, Shine and OpenClassroom.
"We spent several weeks working on and documenting the issue of salary transparency," says Nadim Haswani, Fairmat's CFO. We defined skills, responsibilities and experience, and aligned the grid, while making sure it all matched market salaries."
We finally arrived at a framework consisting of 2 modules.
The formula
Salary = level of responsibility/skills x years of experience in an equivalent position (varying by location)
Remuneration framework Paris Evolution of total remuneration
Classification by responsibility/competencies ?
First of all, and as per a classic remuneration framework, we have included a table with the different levels of "responsibility" corresponding to the different functions at Fairmat.
Then, we have extended this grid across the number of years of experience in the position for which the person applies and is hired.
Note that the variable portion is composed as follows: a bonus based on individual performance (determined on the basis of objectives set at the beginning of the year and an assessment of the skills mastered in connection with the project / role) and a fixed bonus. This applies equally to all Fairmatters.
An additional bonus may be paid for exceptional performance.
A clear evolution
Moreover, for Fairmatters, their remuneration evolves over time to take into account their experience/seniority (in the absence of a change in position/project). Everyone knows in advance what salary progression they will get. In a very simple way, we reward loyalty.
Transparency also on stock options ?
We have set up a stock option plan for all employees on a daily rate, allowing them to be associated with Fairmat's success over the long term. It consists of an option to purchase shares in the company, at a value fixed at the time of allocation. Likewise, this classification gives the right to a determined number of share options. This number evolves according to level.
What's next?
Everything's working well right now, but nothing is set in stone! We aim to keep evolving our frameworks, ideally every year. Our only requirement is that we keep this model light, agile and fair. The measures we apply to 70 or 80 employees may no longer apply when there are 200 or 300 of us. We will certainly adapt this model as we gain experience, so that – most importantly – we continue to attract and retain the best talent.
– – – – – – – – – – – – – – – – – – – – – – – – – – – – – – – – – – – – – – – – – – – – – – – – – – – –
Fairmat rend accessible sa grille des salaires
Courant 2022, nous avons mis en place une grille de rémunération chez Fairmat. LA fameuse grille aussi convoitée que décortiquée par tous les Fairmatters. Après quelques mois d'application, nous avons désormais un peu de recul pour la rendre publique et vous en dire plus sur notre démarche !
Il s'agit pour nous de donner le plus d'informations possible sur les rôles et les missions des équipes afin de réussir au mieux notre entreprise ensemble. Cet exercice de communication publique permet de partager :
De manière ouverte, ce que nous estimons être le bon niveau de salaire pour nos emplois sur le marché, celui de l'engagement pour l'environnement et l'importance de son impact,
Comment nous déterminons le niveau de rémunération que nous attribuons

#spoiler : en fonction de la valorisation de la compétence, la prise en compte de l'expérience et l'adaptation au niveau de responsabilité de chacun·e dans l'entreprise.

Comment la progression salariale se fait au fur et à mesure de l'évolution dans l'entreprise
Pourquoi une grille de rémunération et pourquoi la rendre publique ? ?
Nous pensons avant tout qu'établir une grille des salaires est un moyen d'être tous sur le même pied d'égalité. Certaines personnes sont meilleures dans la négociation que d'autres.
De la même manière, c'est un moyen d'éviter les inégalités, qu'elles soient liées au genre,
à la subjectivité, à l'origine ethnique, au handicap ou au fameux syndrome de l'imposteur : certain·e·s ont tendance à se dévaloriser et à penser qu'ils (et surtout elles) ont moins de valeur qu'ils (elles) n'en ont en réalité. De ce fait, ces personnes demanderont moins à l'embauche.
Les discussions et fantasmes autour des salaires sont présents dans toutes les organisations : inutile de le nier, nous avons tous et toutes une tendance naturelle à vouloir savoir ce qu'il se passe sur la feuille du voisin.
Enfin, c'est surtout pour Fairmat un moyen de communiquer de manière transparente, dès le début des entretiens d'embauche, sur le niveau de rémunération que nous voulons le plus juste possible au sein de notre organisation, centrée sur l'engagement et la responsabilité envers la planète. Cette transparence nous permet de créer un environnement de confiance unique, au-delà de la réduction des inégalités.
Alors, on a décidé de faire gagner du temps en prenant les devants et en communiquant sur nos éléments de rémunération.
Comment avons-nous construit notre grille ? ?
"Bon, on est d'accord que l'on ne doit pas juste valoriser les années d'expérience ? les compétences et le niveau de responsabilité dans l'entreprise, ça se valorise, non ?"
Entre cette décision, déjà mûrement réfléchie en amont, et la diffusion de notre grille en interne, il y a eu plusieurs semaines de travail et de nombreuses lectures pour alimenter nos réflexions. Nous nous sommes également inspirés de très bons articles, notamment ceux de Alan, Shine et OpenClassroom.
« Nous avons passé plusieurs semaines à travailler et à documenter la question de la transparence salariale », explique Nadim Haswani, directeur financier de Fairmat. Nous avons défini les compétences, les responsabilités, l'expérience et aligné la grille, tout en veillant à ce que tout cela corresponde aux salaires du marché."
Nous sommes finalement arrivés à un modèle de grille composé de 2 modules.
La formule
Salaire = niveau de responsabilité/compétences X années d'expériences à poste équivalent (avec une variation sur la localisation)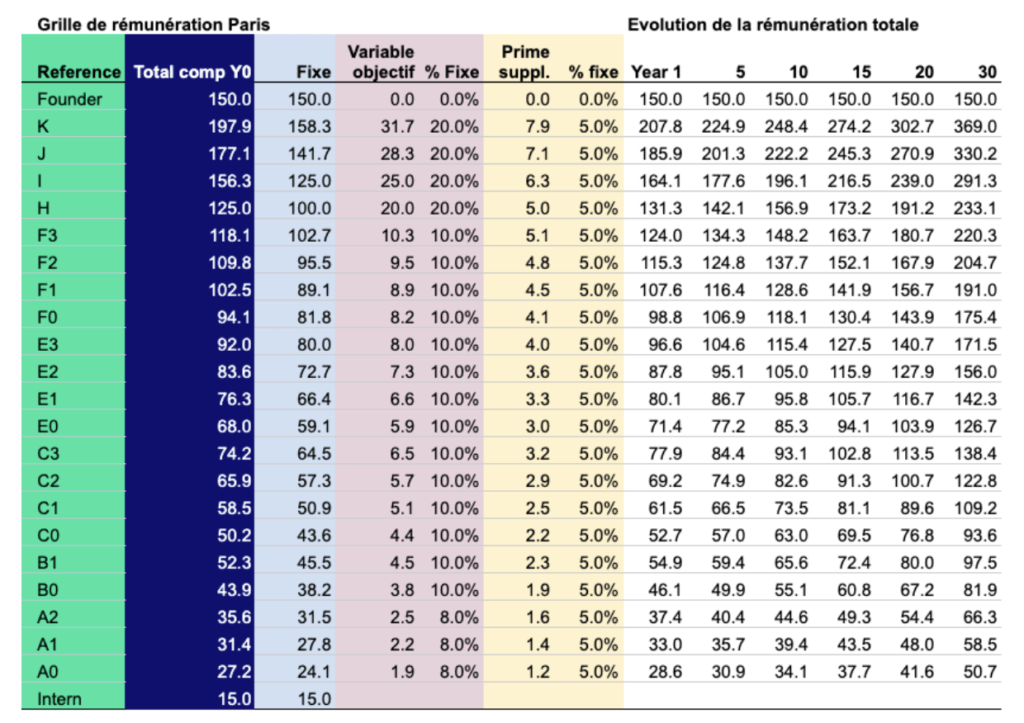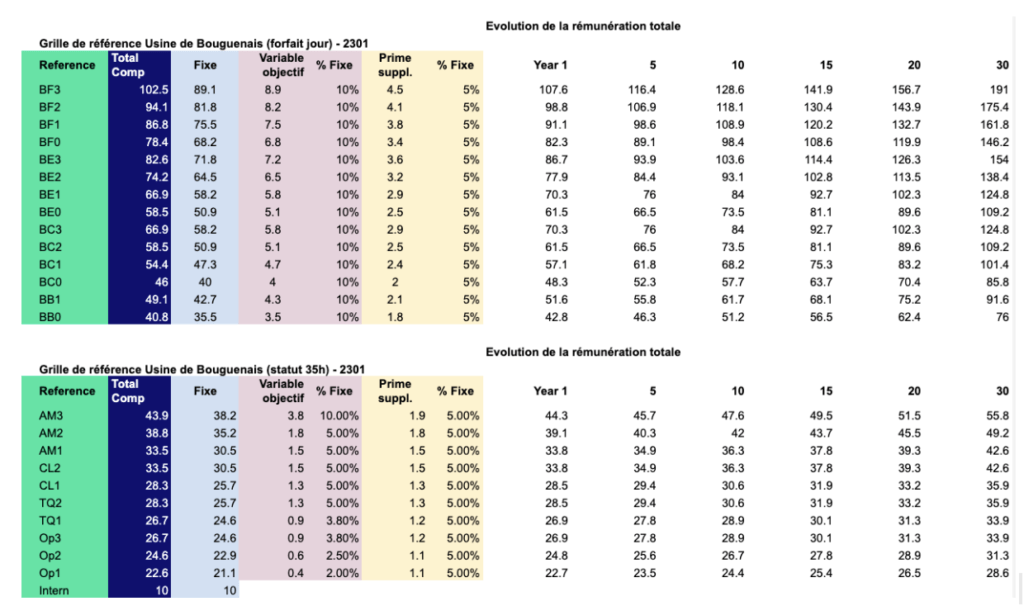 Une classification par responsabilité/compétences ?
Tout d'abord, et de manière assez classique, nous avons inclus un tableau avec les différents niveaux de "responsabilité" correspondants aux différentes fonctions chez Fairmat.
Puis, nous avons étendu cette grille sur le nombre d'années d'expérience valorisable dans le poste pour lequel la personne postule et est embauchée.
À noter que la partie variable se compose de la manière suivante : un bonus qui se base sur la performance individuelle (déterminé sur la base d'objectifs fixés en début d'année et une appréciation des compétences maîtrisées en lien avec la mission) et une prime fixe. Ce traitement s'applique de manière équitable pour tous les Fairmatters.
Une prime supplémentaire peut venir en sus lors de la réalisation de performances exceptionnelles.
Une évolution claire
Par ailleurs, pour les Fairmatters, leur rémunération évolue dans le temps pour prendre en compte leur expérience / ancienneté (en l'absence de changement de poste/mission). On sait déjà à l'avance quelle progression salariale on va pouvoir obtenir. De manière très simple, la fidélité est récompensée.
Transparence aussi sur les BSPCE ?
Nous avons mis en place un plan de BSPCE pour l'ensemble des collaborateurs en forfait jour permettant de les associer au succès de Fairmat sur le long terme. Il s'agit d'une option d'achat de parts dans l'entreprise, à une valeur fixée au moment de l'attribution. Idem, cette classification donne droit à un nombre déterminé de BSPCE. Ce nombre évolue en fonction de votre niveau.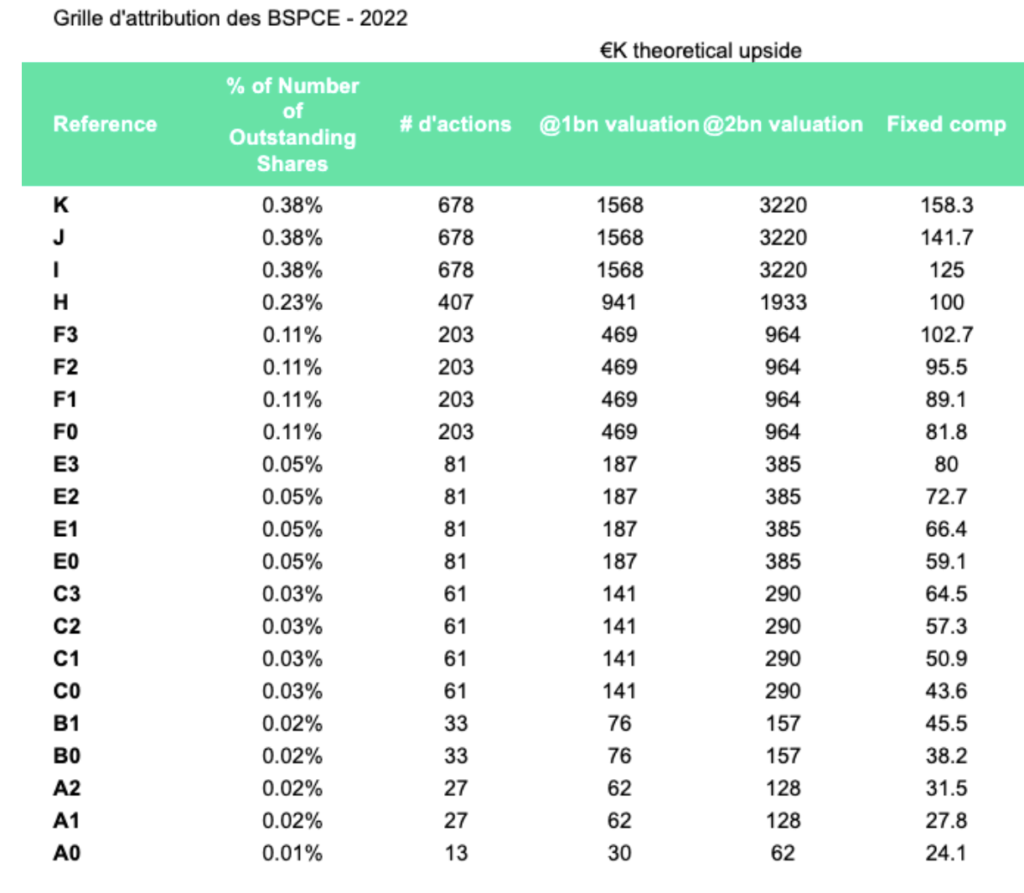 La suite?
Tout fonctionne bien aujourd'hui, mais rien n'est figé ! Nous avons vocation à les faire évoluer, idéalement tous les ans ! Notre seule exigence : continuer de garder ce modèle léger, agile et équitable. Quand on applique une mesure à 70 ou 80 salariés, elle ne sera peut-être plus applicable quand nous serons 200 ou 300. Nous adapterons très certainement ce modèle au fur et à mesure de notre expérience et surtout pour continuer à attirer les meilleurs talents.