 Recycled Materials winning at the 'Sustainability' Game
According to the Playing Against The Clock Report, "Global sports sector emissions contribution is about the same as a medium-sized country." Reports also state that there might not be enough snow left to host the future Winter Olympics, and football stadiums will likely be flooded every year by 2050.
The severity has made itself evident, and the reaction isn't far behind. Sustainability is "extremely" or "very" important to over 60% of organizations in the sport, fitness, and leisure sector, according to the GSHE survey.
It also indicates that 60% of organizations favor buying from suppliers with sustainable credentials and commitment to sustainability.
Accordingly, in their Sustainability Essentials series, the IOC has an interesting take on how manufacturers can choose products with low embodied carbon (overall GHG emissions).
FAIRMAT belongs to this pool of responsible suppliers — with our recycled materials, we want to help make the upcoming sports sustainable from their onset.
Decathlon's partnership with FAIRMAT to launch a KUIKMA "Sustainable Padel Racket" range reflects how the global brand wants to lower the ecological impact of its sports equipment by sourcing responsibly.
This single step allows manufacturers to take a very big leap towards reducing their carbon footprints and fostering circularity — but there's more to that.
Upcoming Eco-Racket Sport: Padel
Introducing rackets made from recycled advanced materials for the fastest-growing sport, Padel.
Sustainable materials that

"perform"
Carbon fiber that is "mechanically" recycled from composite waste retains at least 70% characteristics of the original material and hence, makes for a high-end padel racket material.
The KUIKMA Padel range will be developed from recycled carbon fibers and bio-sourced resins using FAIRMAT's patented technology, which guarantees a racket designed for uncompromising performance at a comparable price.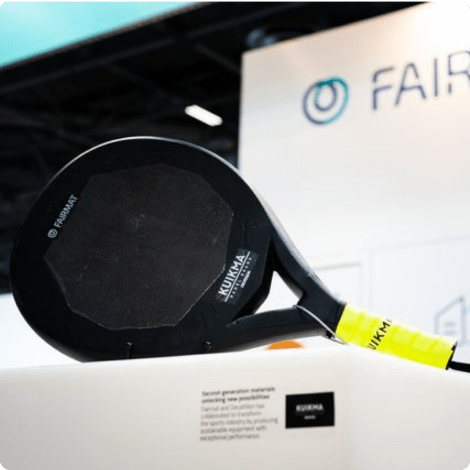 Each sustainable padel racket will mean

one less virgin racket

made
Carbon fiber material is preferred for the production of power padel rackets over fiberglass and is popular with manufacturers and players alike, except that it is not biodegradable or renewable.
As per the Playtomic Proprietary Survey, recurring players purchase a new padel every 15 months.
Each padel racket, manufactured from recycled materials and used for the game, will globally result in fewer virgin materials being sourced from non-renewable natural resources and their eventual use and disposal.
Quantitatively, 1 kg of composite waste, when recycled mechanically (by FAIRMAT's recycling process), avoids the production of about 250g virgin carbon fibers and 250g virgin resin.
CO2

emissions avoided
The energy required to recycle 1 kg of composite waste is 10-20 times lower than manufacturing 1 kg of virgin composite fibers.
Besides preserving natural resources, manufacturers will be able to avoid CO2 emissions during the sourcing and production stages of their padel rackets.
Reduced impact

on the environment
By introducing a sustainable use for end-of-life waste materials, manufacturers will be able to prevent the use of landfills or energy to dispose of that waste.
This, in turn, allows them to reduce the overall environmental impact of that waste significantly.
Composite materials are non-biodegradable and should not be landfilled (dumped) or incinerated (combusted). Both processes are energy-intensive and have a bigger carbon footprint than recycling.
After-life

of padels
Sustainable padel rackets use materials sourced from their previous applications in airplanes, wind turbines, cars, or perhaps even sports equipment.
Recycled rackets will allow manufacturers to help give a meaningful after-life to products other than their own.
By integrating recycled composites into their production processes, manufacturers will be able to play an active role in creating demand for recycled materials and, therefore, for recycling.
End-of-life

of padels
When manufacturers manage only their own production waste, it is a job half done. Their duty doesn't end at their factory door and extends to managing how their customers dispose of their products and its packaging.
What happens to the rackets when they can no longer be used to play?
Eco-conscious organizations will be able to incorporate life-cycle thinking by collaborating with recycling service providers to manage both their production scraps and end-of-life waste.