(When) is recycling composites worth it?

Questions like "Is recycling worth it?" and "How beneficial is recycling for real?" surfaces on the Quora search.
It seems that 'recycling' has a diverse fan base. Some see recycling as the answer (like we do), and the rest have these questions.
Recycling something cannot be worth it if it doesn't have a substantially lower impact on the environment than discarding it and/or if it costs a fortune.
What will you learn from this article?
Why should composites be recycled?
Current scenario of composite waste and its management.
How and when exactly can composite recycling be sustainable?
Let's use an example of a 'straw' to paint the picture.
If we want to remain sustainable while avoiding the hassle of recycling the straws — they'll have to be biodegradable, made of bamboo, paper, or even better — pasta.
If our straws are going to be plastic (or non-biodegradable), then we shall as well check our options for reducing the usage of straws at first and reusing the rest of them if possible (as per the 5Rs of the Waste Hierarchy.)
If the price is a constraint, then we'd be able to cut costs by using plastic straws and instead invest more resources in recycling them.
And worst of all, if we go all 'YOLO' — then we'll just dump the straws at the curb-side.
But, unlike straws used in margaritas, 'composites' are used in airplanes and wind turbine rotor blades. Dare we use paper in planes?

Recycling composites is a no-brainer because the global composites market was valued at USD 93.44 Billion in 2022 and is expected to reach a value of USD 151.24 Billion by 2030 due to the rising demand, as per the report.
Attractive by their thermochemical properties and lightweight and long-life span, composites' applications span more than 15 industries — construction, aerospace, sports and leisure, automotive, marine, and electronics, to name a few.
Demand for composites is bound to spike, and the resulting waste will inevitably follow suit. But the demand can only rise up to a point where it can still be met.
Commercially used composites (such as FRPs) are derived from non-renewable resources. If the virgin composites are not being replaced by recycled ones, then they are as finite and exhaustible as all other resources we tend to worry about.
We cannot renew them, but we most certainly can consider recycling them without losing sight of the goal of creating a circular economy (CE) for them.
Overview: Composites Recycling
CReCoF estimated that the composite waste generated by production amounts to about 7,000 to 15,000 tonnes/year. But, by the end of 2025, CFRP waste alone is expected to grow by 20,000 t/year.
And, overall composite waste, in Europe only, will reach a baffling 683,000 t/year; while the global recycling capacity remains less than 100,000 tons.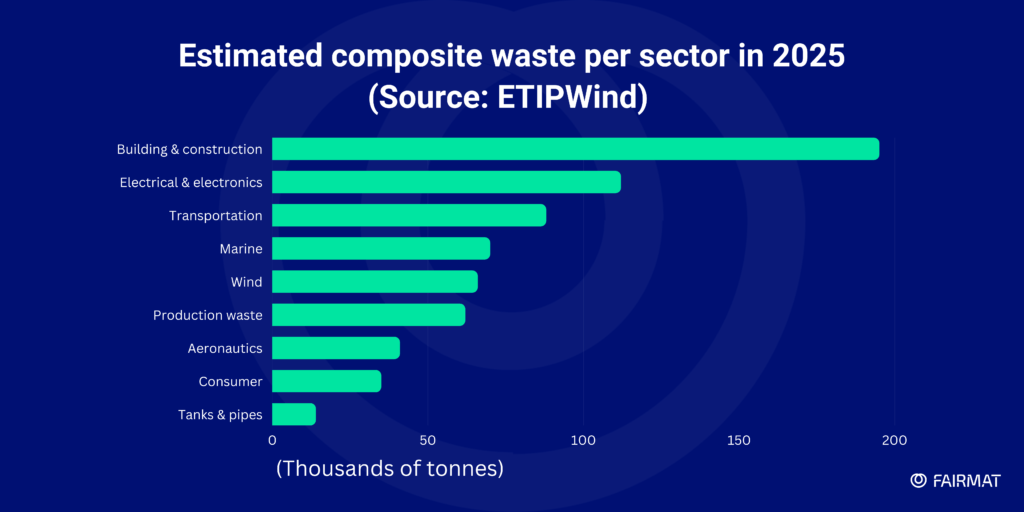 These waste estimations are big and scary, and so are the stakes — both in environmental and economic terms.
Recycling composites doesn't exactly have the same reputation as the metal industry — where recycling is proven reliable and comparatively inexpensive.
Landfilling still remains the preferred solution for composite waste management, but at what cost?
As of today, recycling composites is most likely limited by factors such as composite's complex composition (heterogenic), difficulty sourcing the waste or incoming inferior quality composite waste, alteration of their properties upon recycling, resulting low-grade recyclates, etc.
Perfecting and practicing recycling end-to-end will be the key to bringing circularity to the composites industry.
When is recycling composites sustainable?
Circling back to the topic of this article — when is recycling worth it?
It will largely depend on the extent to which it impacts the environment.
Is it environmentally friendlier to replace landfilling the composite waste with recycling? Yes, given that their costs don't differ greatly or if recycling is more affordable.
Is recycling worth it if you are exporting the waste to be recycled in other corners of the world? No, the resulting pollution defeats the purpose.

Is it worth it if the resulting recycled materials sit on the shelves (not in demand) instead of in landfills? No, it defies circularity.
All in all, recycling is only sustainable if it answers the questions above as well as others, positively.
According to the OECD's Extended Producer Responsibility (EPR), "every person in charge of developing, manufacturing, processing, treating, selling or importing products is responsible for the upstream and downstream impacts throughout the whole life cycle of the product."
A research study comparing the impact of recycling to other waste management methods such as landfilling, incineration, and co-incineration revealed that— recycling has a substantially lesser impact on climate change, raw materials, and human health.
But if you read between the lines, recycling methods will differ as per the type of composite waste (production scraps, end-of-life products, etc.), and so will their environmental impact. A key to sustainable waste management is to identify the optimal recycling process.
Common processes to recycle composite materials today include — mechanical, thermal, chemical, and biological recycling. Favoring one from the other will decide what kind of second life you'd want to give to the composite waste.
Mechanically recycling the composite waste can lead to losing the original fiber's length, but on the upside — it doesn't cause air or water pollution. Most importantly, the chemical structure of the composite, and therefore its original properties, remains unimpaired during the cutting process.
Thermally recycling the composite material by pyrolysis can recover fiber with some contamination, but it is not economically viable. However, the by-products obtained from pyrolysis (gas and oil) can be used as energy sources. Chemical recycling by solvolysis leads to the recovery of full-length fibers, but the method is energy-intensive and expensive.
In a comparative study, the energy required to recycle 1 kg of composite waste was found to be 10-20 times lower than manufacturing 1 kg of virgin composite fibers.
It also states that mechanical recycling requires the least amount of energy to recycle composite waste compared to other recycling processes. But, the energy required by different types of 'mechanical' recycling — such as remolding, grinding, milling, etc. will differ too.
(Learn more about the impact of FAIRMAT's composite (CFRP) recycling process on 'resources consumption' and other environmental factors)
However, our duty doesn't end at the end of making the most sustainable choice. For the composites ecosystem to come full circle — recycled composite materials will have to gain acceptance among manufacturers.
Several forward-thinking organizations across many verticals have adapted their production to integrate recycled composites. Notably, Decathlon partnered with FAIRMAT to integrate recycled composite (CF) materials for developing a range of eco-friendly Kuikma Padel Rackets in 2024.