Sep 21, 2023

FAIRMAT's 4 core values cultivating company culture
So, to begin with, how are rules different from values?
Rules direct, while values guide and anchor.
More often than not, rules are shaped by values, too. An example would be how FAIRMAT has stringent regulations to manage the safety of our employees who operate various industrial machines installed in our facilities. This, and other such rules, always trace back to the company's underlying values — which, in our case, is about employee welfare principles.
That brings us to why we need to anchor (both as a company and an individual). Sometimes, to tell personal preferences from the company's objectives. Other times to set our business apart from other businesses.
Although we've built FAIRMAT upon many values and principles, we have defined 4 core values that we all uphold and follow.
They are: Honesty, Determination, Engagement, and Pragmatism (discussed in detail later.)
In our experience, core values don't have to be atypically exotic or fit into acronyms but can be of relevance by just being as authentic and ordinary.
It is possible that what FAIRMAT wants its values to represent — may differ from that of the other companies.
The list is long, but of everything, we'd like our 4 core values to represent:
Decision-making: Our core values should be the moral compass we use while making decisions. A difficult decision should become easier when weighed against our values.
Actionable (Experiencable): Our values should represent demonstrable actions. In the following part, we've listed many examples where our employees express the core values in their day-to-day lives.
Shaping the company culture: FAIRMAT's core values are its cultural cornerstones. We want them to represent the beliefs we identify with and shape our culture accordingly (and organically.)
Publicly understood: We want our core values to be defined (also what this article is about). Only if clearly stated and understood — can our stakeholders (clients, employees, investors, partners, suppliers, etc.) respect our values.
Non-negotiable: They are principles upon which the company operates. So, even if open to personalization, interpretation or debate, the core values will simply remain non-negotiable in practice.
Debatable: Fairmat's core values might change as its core identity changes. We want them to be open for discussion, debate, and adjustments with time without violating them.
During the yearly offsite, we organized a brainstorming workshop (in the picture below) to revisit our core values. With the help of this workshop and everybody's participation, we developed these values and revised them to correspond with our day-to-day lives at FAIRMAT. Following this, a final version was voted through our semestrial internal survey before total approval.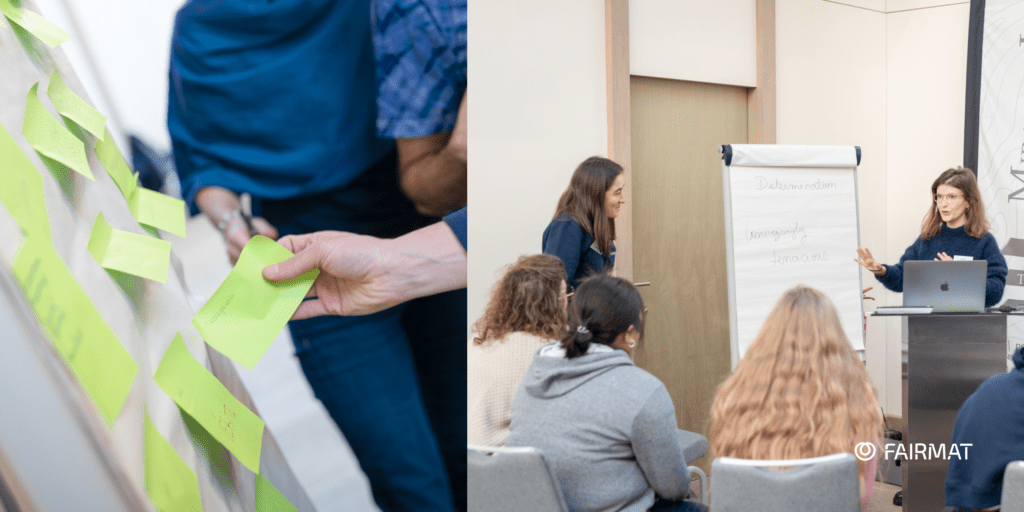 FAIRMAT's 4 core values: Honesty, Determination, Engagement & Pragmatism
Listed below are some real-life examples and testimonials of employees who identify themselves with the core value(s) and apply them in their day-to-day activities.
1. Honesty:
"Committed to be genuine. We put integrity & sincerity at the forefront of our actions to preserve trust."
Our core value, honesty, is fairly self-explanatory but has deep significance for us. To begin with, the 'fair' in FAIRMAT revolves around our 5 Fair Principles: to remain fair to the planet, industry, consumers, investors, and employees.
This commitment to remain genuine is particularly pertinent to our mission — to build a circular ecosystem for advanced materials.
It is unacceptable for us to mislead our consumers because our products and services are trusted to protect the environment. In other words, the stakes are as high as the climate change urgency.
An example would be how we have tried to remain transparent in all our communications about a Simplified LCA Report, a sustainability study assessing the carbon emissions of our offers. We explicitly stated the exceptions and assumptions of the study, and it played a crucial role for the employees to witness the value in action — take it as a reference and apply it to all their future interactions.
We've learned, in the best way possible, that values can be transferable if used correctly.
On the other hand, core values can be applied internally as much as it is used externally. For instance, FAIRMAT's Salary Grid is available to all employees to follow their salary scale and progression upon joining. Furthermore, the framework also helps us uphold fairness and transparency.
2. Determination:
"Bold & tenacious. We are overcoming challenges together to succeed in our fair mission."
Determination, at FAIRMAT, is about ensuring that you leave nothing to chance. We are allowed failures, but only after we've tried and tested everything we could have. In the end, it's always a learning experience.
Like most companies, we want to 'get it done,' but what's important is ensuring that we use all available means and not overlook any avenues to get it done.
Julie Chalony (R&D Materials Engineer, FAIRMAT) articulated an excellent interpretation of the value, "When I was asked to increase a particular material's performance by 100%, it took a lot of determination. For me, a determined attitude is about constantly searching, not giving up, and being convinced that a solution always exists."
3. Engagement:
"Forward-thinking for a positive impact. Together, we align our actions with our beliefs to pursue our mission and transform the industrial ecosystem."
Engagement (or commitment) is the value that unites all of us the most. Everyone either joined FAIRMAT to do their bit for climate change or eventually embraced the ideology that in everything we do, the 'planet comes first.'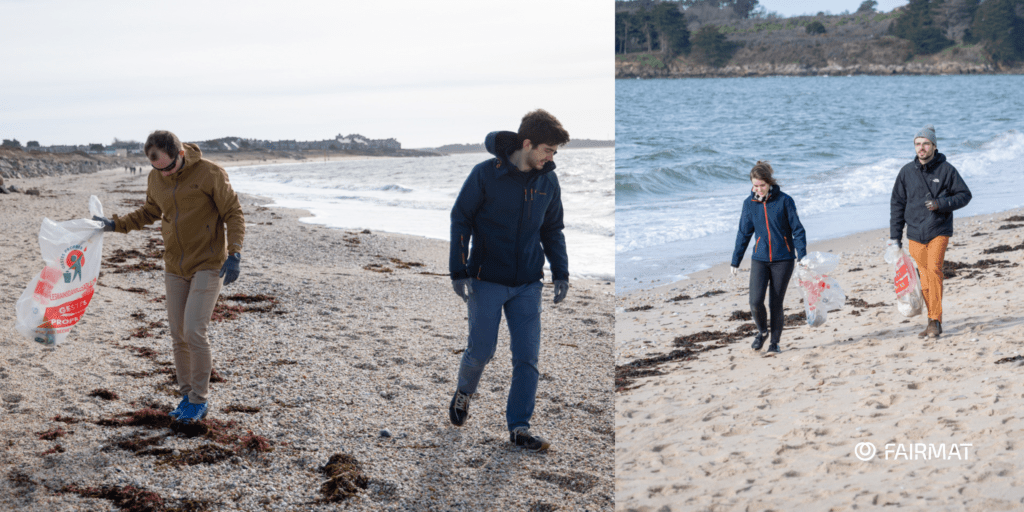 4. Pragmatism:
"Pragmatic minds with real actions. We aim for realistic solutions to turn our ambitions into results."
We don't want to be modest when expressing our emotions or ambitions. But when it comes to pursuing our objectives, we want to limit ourselves to matters of fact.
We want to be results-driven because we cannot afford to let ourselves drift over the theoretical possibilities of 'what could be or should be.' We don't want to lose the slightest sight of our end goals and always come up with the simplest, most effective solutions.
Namit Bhasin (Sales Operations Analyst, FAIRMAT) shared how being pragmatic helps him to stay calm and ahead of the chaos and allows him to put all the responsibilities in perspective and look at the bigger picture.
As he puts it, "Being pragmatic helps me critically question and examine the current gaps in our processes. Focusing on the 'facts' allows me to remain proactive and react to a certain situation in an effective manner."
To conclude, our core values are not set in stone, but we do make a big deal out of them. We'd love to hear your thoughts about them.
We also have our homespun version of the employee-of-the-month tradition. A gesture of recognition where we award a "FairBrick" (a plaque made of recycled carbon fiber and manufactured in our factory) to celebrate and congratulate the employees who demonstrate these core values at work.
Check out our career page to learn more about life at FAIRMAT 👇